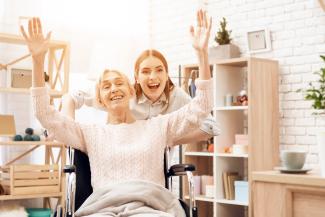 Making the Long Term Care Decision That's Right for You
For most of us the conversation isn't whether or not we'll need long term care, but rather when. According to the U. S. Department of Health and Human Services as many as 70% of those turning 65 years of age are likely to require long-term care, meaning that it probably makes sense to start planning for this as an eventuality rather than a possibility.* Professional help with daily tasks like bathing and eating doesn't come free, and knowing we are likely to need this level of assistance at some point in our lives doesn't make it any easier to plan for.
Paying for such ongoing medical and personal care out of pocket is often prohibitively expensive and current laws are written so that the state will usually only step in once you've exhausted the bulk of your assets. With no long-term care bailout on the horizon now is the time to make a plan for this important reality.
Can Long Term Care coverage wait until I retire?
Deciding that long term care coverage is necessary is an important first step, but it's just as important to make sure to get the right amount of coverage at the right time.
Your personal characteristics, such as age, health and gender can influence available policies and premiums. 
As a rule of thumb, buying when you are younger tends to result in much lower costs, both due to better overall health and a lower starting point for any future premium increases by insurers. It's easy to imagine that a 65 year old in poor health will pay much higher premiums at the outset than a 50 year old with a clean bill of health.
How much coverage should I get?
This insurance is much like health insurance in that the benefit levels and policy costs can vary widely depending on the level of protection you are looking for.
Desired benefit levels also make a significant difference on costs, meaning that high levels of coverage with generous daily payout levels don't always come cheap. Other policy choices, such as provisions that help coverage levels keep up with inflation, are optional extras that oftentimes can be necessary to achieve protection for decades to come. Again, these options can add to the cost of the policy.
While the cost of a policy takes a few dollars per day out of the budget today it can be a financial parachute in the event of a catastrophic or ongoing infirmity. The specific dollar level of coverage that's right for you will vary depending on your net worth, your long term goals, and other details like your health history and where you live.
Can I put something in place then change coverage later?
Maybe, but it's probably best not to count on it. Unlike auto or homeowners insurance the ability to easily switch from one long term care coverage provider to another is usually limited. Most of these companies price new policies higher than older ones and price older clients higher than younger ones. This double-whammy means that switching to a new policy when we are older tends to be very costly. It can pay to take the time and consult with a long term care insurance professional today so that you end up with the right level of coverage and peace of mind to carry you forward for years to come.
*2015 Department of Health and Human Services
Long-term care insurance policies contain exclusions, limitations, reductions of benefits, and terms for keeping them in force. Your financial professional can provide you with costs and complete details.

All policy guarantees are based upon the claims paying ability of the issuer.

The opinions voiced in this material are for general information only and are not intended to provide specific advice or recommendations for any individual. To determine which investment(s) may be appropriate for you, consult your financial advisor prior to investing.
This content is developed from sources believed to be providing accurate information. The information provided is not written or intended as tax or legal advice and may not be relied on for purposes of avoiding any Federal tax penalties. Individuals are encouraged to seek advice from their own tax or legal counsel. Individuals involved in the estate planning process should work with an estate planning team, including their own personal legal or tax counsel. Neither the information presented nor any opinion expressed constitutes a representation by us of a specific investment or the purchase or sale of any securities. Asset allocation and diversification do not ensure a profit or protect against loss in declining markets. This material was developed and produced by Advisor Websites to provide information on a topic that may be of interest. Copyright 2014-2015 Advisor Websites.