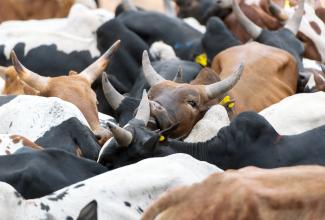 Market frenzy shows the dangers of 'herd investing'
By: Brian Klukas, CFA®, CAIA
Investment Resource Group (IRG)
You may be aware of the recent frenzy over the stock of a nationwide video game retailer. For days, one news report after another told a tale of small investors banding together to stick it to large hedge funds. A real-life David vs Goliath story, but this time David's weapon was a social media app.
While the story no longer leads the news, many average investors are left wondering what they should make of it. How does this fit with trying to fund a college education? Improve their family's financial future? Or achieve a financially secure retirement?
Let's look closer at what happened. In late January, small investors using social media spurred interest in a video game retailer's stock. The price rose. More and more investors jumped in, creating a buying stampede.1 From January 13-18, the stock shot up by more than 2,200 percent. But then it fell just as hard. After peaking on January 28, it lost almost 90 percent of its value during the next five trading days.1
Some hedge funds betting against the stock reportedly lost heavily. But it's more likely small investors suffered the most. One investor bragged he'd used nearly $10,000 of his parents' retirement savings to buy the stock at $300 a share.2 As of February 18, it's trading under $50.3
In the end, this will go down as another example of herd investing – the force behind a long lineup of investment bubbles and blowups. Emotions, particularly the fear of missing out, drive the herd's stampede into investments that don't make rational or financial sense. Anyone is susceptible. Even Isaac Newton, one of the most influential scientists of all time, lost heavily in the 1720 South Seas investment mania.4
Anyone investing for the long term should stay clear of the herd. But if even the genius who discovered the law of gravity and invented calculus saw his investment bubble burst, how can average investors protect themselves?
Create a strategy and stick to it. By setting goals and structuring your investments around them, you can avoid getting caught up in fads. Consider working with a financial professional who can help you make rational, rather than impulsive, decisions.
Don't chase the market. Hoping to get in and out of an investment fad at the right time is gambling, not investing. Remember the tortoise and the hare. In the long run, sticking to a financial strategy is more likely to help you meet your investment goals.
Make investments with a solid foundation. At IRG, we focus on offering funds with good management and solid track records. A skyrocketing stock price doesn't make a company more profitable. Only improved earnings can sustain growth in an investment's value.
The recent rise and fall of a video game retailer's stock is an example of the noise that overwhelms the market from time to time. Investors with long-term goals are better off sticking to their strategy and tuning it out.
This is a general communication for informational and educational purposes. The information is not designed, or intended, to be applicable to any person's individual circumstances. It should not be considered investment advice, nor does it constitute a recommendation that anyone engage in (or refrain from) a particular course of action. If you are seeking investment advice or recommendations, please contact your financial professional.
This material represents an assessment of the market environment at a specific point in time and is not intended to be a forecast of future events, or a guarantee of future results. This information should not be relied upon by the reader as research or investment advice regarding any funds or stocks in particular, nor should it be construed as a recommendation to purchase or sell a security. Past performance is no guarantee of future results. Investments will fluctuate and when redeemed may be worth more or less than when originally invested.
Brian Klukas is a Registered Representative of Securian Financial Services. Securities and investment advisory services offered through Securian Financial Services, Inc., member FINRA/SIPC.
Securian Financial is the marketing name for Securian Financial Group, Inc., and its affiliates.
1. Yahoo! Finance, for the period January 13, 2021, to February 4, 2021.
2. Harwell, Drew. "As GameStop stock crumbles, newbie traders reckon with heavy losses." Washington Post, February 2, 2021.
3. Market Summary, GameStop Corp., (NYSE: GME). As of February 18, 2021.
4. Odlyzko, Andrew. "Isaac Newton and the perils of the financial South Sea." Physics Today, Vol. 73, Issue 7. July 1, 2020.
Securian Financial Group, Inc.
securian.com
400 Robert Street North, St. Paul, MN 55101-2098
©2021 Securian Financial Group, Inc. All rights reserved.
DOFU 3-2021
1532573