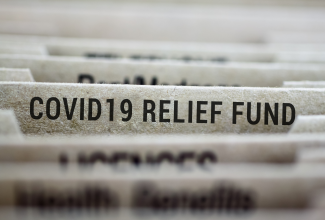 COVID 19 Relief: The American Rescue Plan Act of 2021
The American Rescue Plan Act of 2021 was signed into law March 11, 2021. The bill includes a sweeping collection of provisions intended to support struggling Americans, fight the pandemic and revive the economy. For families, individuals and businesses, here are some of the top-line highlights:
Stimulus checks and unemployment
Another round of stimulus checks are expected to reach qualifying individuals and their dependents beginning in March 2021. To be eligible for a check, you need a Social Security number and must have an adjusted gross income (AGI) that falls within certain income thresholds. You qualify for the full $1,400 if you file as a single person with an AGI of $75,000 or less, head of household with an AGI of $112,500 or less, or married couple filing jointly with an AGI of $150,000 or less. Partial payments are available for slightly higher incomes, but payments quickly decrease to zero.1
Unlike the last COVID-related stimulus payments, any individual you claimed as a dependent on your last tax return (including children in college and adults with disabilities) will also receive a stimulus payment equal to yours, with no limit on the number of dependent children. The Internal Revenue Service will use either your 2019 or 2020 tax returns record to determine your income eligibility and dependents, using whichever is the most recent year on record.1
Federal unemployment payments of $300 per week were extended until September 6, 2021. Additionally, the first $10,200 of unemployment benefits received in 2021 are exempt from federal income taxes for households with incomes below $150,000.1
Tax credits for families with children
The Child Tax Credit was expanded to include 17-year-olds, from 16 year-olds, and increased to $3,000 per child for children ages 6 to 17 and $3,600 for children under 6. The tax credit is fully refundable for single filers earning up to $75,000, heads of household earning up to $112,500 and married couples filing jointly earning up to $150,000.1
The Child and Dependent Care Tax Credit (available to kids under age 13) was expanded to cover up to half of eligible childcare expenses, capping out at $4,000 for one child or $8,000 for two or more. For families making less than $125,000, the credit is fully refundable, while families making between $125,000 and $400,000 will receive a partial credit.1 
Health insurance, housing and schools
The bill temporarily expands subsidies for health insurance purchased through the federal marketplace, which could lower monthly premiums for certain eligible individuals through calendar year 2022. It also will fully cover the cost of Consolidated Omnibus Budget Reconciliation Act (COBRA) health insurance from April 1, 2021 until September 30, 2021.2
For families who are in danger of being evicted, the bill allocated nearly $22 billion for emergency rental assistance. And for struggling homeowners, there's nearly $10 billion to help with mortgage payments, utility bills and other housing costs.2
The bill allocated $125 billion for K-12 public schools to help student return to the classroom, and nearly $40 billion to colleges and universities. At least half of the aid allocated to colleges will go to students via emergency financial aid grants to pay for things like food, housing and health care.2
Relief for businesses
There are numerous provisions in the bill designed to support and revive the business community, including:
$15 billion to the Shuttered Venue Operators Grants program, which helps live music venues, museums and other event venues that have closed or reduced operations.3
$7.25 billion for the Paycheck Protection Program, which offers forgivable loans to small businesses. The loans will only be forgiven, however, if at least 60% of the money is used to support payroll expenses and the remainder goes to mortgage interest, rent, utilities, personal protective equipment or certain other business expenses.3
$29 billion to create a grant program that provides direct relief to restaurants.3
This is only a small selection of provisions found in the bill that may help support you and others in your community. Contact your financial professional to learn more.
Sources:
1. F.A.Q. on Stimulus, Unemployment and Tax Rebates, New York Times, accessed March 12, 2021.
2. Money for colleges, libraries and clubs: 10 things you might not know are in Biden's COVID-19 relief package, USA Today, accessed March 11, 2021.
3. What's in the $1.9 trillion rescue plan for small businesses, CNN, accessed March 11, 2021.
The foregoing summary of tax impacts resulting from the recent legislation is not exhaustive. Rather, the information is a general discussion of the relevant federal tax laws provided to promote ideas that may benefit a taxpayer. It is not intended for, nor can it be used by for the purpose of avoiding federal tax penalties. Special rules may apply to situations not discussed here. Due to the complexity of tax legislation, you should discuss any issues with your tax advisor.
This is a general communication for informational and educational purposes. The information is not designed, or intended, to be applicable to any person's individual circumstances. It should not be considered investment advice, nor does it constitute a recommendation that anyone engage in (or refrain from) a particular course of action. If you are seeking investment advice or recommendations, please contact your financial professional.
Securian Financial is the marketing name for Securian Financial Group, Inc., and its affiliates. Securities and investment advisory services offered through Securian Financial Services, Inc., member FINRA/SIPC, 400 Robert Street North, St. Paul, MN 55101-2098,1-800-820-4205. ©2021 Securian Financial Group, Inc. All rights reserved. DOFU 3-2021 1561795